So you've been seeing rock-bottom interest rates over the past couple years, but now that the Bank of Canada has hiked its benchmark interest rate by another 25 basis points, you're thinking, "Well, what does that mean for me?"
At Libro, we're focused on financial coaching that builds financial resilience for our customers – they're called Owners because they own the company – so we always keep a close watch on changes like this. Here's a quick guide to what's happening.
Let's start with the basics
Ontario's inflation eased to 3.4% in May, a substantial decline compared to when it peaked at 8.1% last summer. The Bank of Canada has been increasing interest rates to help manage it, with still more rate increases expected in the coming months.
Inflation is an ongoing process of rising prices across most goods and services – it takes more money to buy the same products.  Money is losing its value or "purchasing power" over time. In recent months, we have seen inflation pronounced in a number of areas, especially food, shelter, and transportation.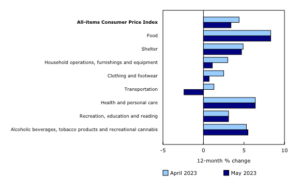 Inflation is not a one-time increase in the cost of a product or service. For example, an increase in the price of gasoline in the summer is not inflation. Gasoline prices rise because of oil supply or higher demand.  Although it may feel like inflation, it is an example of a price shock and not an ongoing process of increasing prices.
The Bank of Canada has raised rates several times since March 2022 to reduce the money supply, since the economy has been normalizing post-pandemic. There are other forces also contributing to inflation including the war in Ukraine, labour shortages and record low unemployment, and ongoing supply disruptions. All the factors together have cause inflation to be more persistent than the Bank of Canada had originally expected.
When rates increase, it leads to less borrowing and individuals begin to feel financially strained.  Loans and other payments go up, and people and businesses have less money left to spend on other goods and services. The primary objective of the Bank of Canada's actions is to bring inflation back to achieve the 2% inflation target.
Libro knows there has been a ton of change with the Covid-19 pandemic alone, and we're here to help you navigate the ups and downs of interest rates too; this is financial resilience at its finest!
What should you expect?
Those with variable mortgage rates or mortgages coming up for renewal may see an increase in their monthly costs. Your line of credit will also see an increase in the interest you are required to pay back.
The housing market may slow as rates increase and affordability decreases, and inflation of other goods and services may also play a large role in the affordability of everyday living expenses.
If you're considering buying a new home, you may encounter new difficulties in qualifying for the house of your dreams. With interest rates and inflation climbing, that means less money in your pocket and higher monthly costs, resulting in a reduced mortgage approval amount.
But it's not all bad – you'll also see higher interest rates on your savings accounts! As interest rates rise, your savings will too, but it's important to consider the amount you're making on investments in comparison to how much more you will need to pay on debt. Inflation won't necessarily cause damage to your investing strategy. Diversification in your portfolio will be your saving grace here. It's all a balancing act!
What can you do?
If you don't already have one, create or update your budget! There is a Budget Planner on Libro.ca that will provide you with all the necessary steps to get started.
When you are in a variable interest rate, you may receive an increase in calls from your financial institution as your rate increases to make you aware of your new payment amount. If you're able to, increase your payments by a small amount, that way you know you are paying off your debt faster as more of your money is going towards the principal of your loan, and you can avoid any unwanted calls from your financial institution further down the road.
Switch to a fixed rate for your loans at renewal or where available. This will give you a more budget-friendly option and create stability in your monthly payments.
Meet with a Libro Coach! Whether you are an Owner or not, a Libro Coach is happy to discuss your circumstances and create a budget so any changes in your monthly payments will keep you stress-free.
More Resources
Ups and downs in your monthly budget don't have to be a constant pain. We at Libro put purpose beyond profit, and that means recognizing where our Owners could use our support. Learn more about the credit union difference and what makes Libro epic here.
This blog post was originally published on May 5, 2022, and edited and republished on July 12, 2023.