Everyone likes to invest a little differently – whether you're new to the game or have been a pro for decades! But if you're hesitating to know where to get started, it helps to know that you're not the only one. I've compiled a list of common investor personality types that I see in my day to day as a Libro Coach and Credential Asset Management advisor, each giving a little kick as to how we can help you move to be the Confident Investor.** Regardless of where you're starting, Libro has access to investment products that you'll be comfortable with; here are some tips on which may be the best for you.
Which investor are you?
The First Time Investor
Do you have big dreams, but don't know the first step to achieving them? You may be a First Time Investor – and Libro Coaches are here to help you choose which investments will get you to your goals. Whether you open a TFSA, want long-term savings, or feel safest with a GIC, Libro has what fits you best. 
The Long-Time Investor
This isn't your first rodeo; you're confident in your knowledge about RRIFs, TFSAs, and feel ready to tackle retirement. That's amazing! Libro Coaches are experts that are here with you every step of the way and hopefully, take a little bit off your plate – it's time to enjoy all that hard work paying off!
The Aggressive Investor
You're confident, like to take a little risk or say, "go big or go home." If any of this sounds like you, you're probably an Aggressive Investor! Libro has access to investment options where you're in control of where you invest your money, like Qtrade Direct InvestingTM or VirtualWealth®.* 
The Investor Looking to Switch
Whether your goals have shifted, your lifestyle has changed, or you just aren't happy with where your investments are now, you're an Investor Looking to Switch! This is an exciting opportunity to sit down with a Libro Coach who can help you move your investments painlessly into a product that suits you best.
The Socially Responsible Investor
Good news, all new Libro mutual funds accounts through Credential Asset Management Inc. are responsible investments!** We have certified Responsible Investment Specialists who help align your investments with your values by using environmental, social and governance criteria to select and manage your investments.**
The Passive Investor
If you like to sit back and let your money do its thing, you're probably a Passive Investor. Regardless of how you like to invest, our Credential Asset Management advisors can create a financial plan – so you can relax knowing your money is in good hands without lifting a finger.**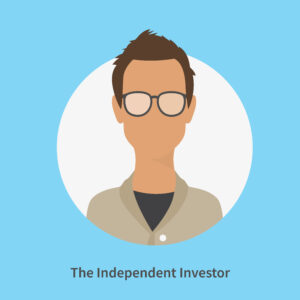 The Independent Investor
Like taking the reins on where and how you invest? You sound like an Independent Investor – and Libro has access to options for you too! VirtualWealth® and Qtrade Direct InvestingTM are great options for those DIY-ers who feel great making all the moves themselves and confident enough to man the ship. * 
The Anxious Investor
If the thought of investing threatens to overwhelm you, you might be an Anxious Investor! You aren't the only one – and you'll be happy to know that our advisors are there with you every step of the way to help ease that anxiety. No rushing necessary, and if you aren't comfortable with risking it all, Libro offers several types of no-risk savings accounts like TFSAs, GICs, and RRSPs that will help settle those nerves.  
The Trendy Investor
Do you fear missing out and are always looking for the next newest investment craze? You sound like a Trendy Investor! Qtrade Direct InvestingTM and VirtualWealth® are great options for investors who love to jump on the bandwagon.* 
The Confident Investor
The Confident investor is the one who invests at Libro! Our Coaches help you make the most of your investments and figure out a plan that'll have you feeling assured.
Did you find a personality that fits you to a T? If you'd like help finding where you are, or where you'd like to go with your investments, consider reaching out to a Libro Coach.
*Online brokerage services are offered through Qtrade Direct Investing, a division of Credential Qtrade Securities Inc. Qtrade and Qtrade Direct Investing are trade names and trademarks of Aviso Wealth. VirtualWealth is a trade name of Credential Qtrade Securities Inc.
**Mutual funds and related financial planning services are offered through Credential Asset Management Inc.
***Mutual funds and other securities are offered through Credential Securities, a division of Credential Qtrade Securities Inc. Credential Securities is a registered mark owned by Aviso Wealth Inc.
**** Commissions, trailing commissions, management fees and expenses all may be associated with mutual fund investments. Please read the prospectus before investing. Unless otherwise stated, mutual fund securities and cash balances are not insured or guaranteed and are not covered by the Canada Deposit Insurance Corporation or by any other government deposit insurer that insures deposits in credit unions. Their values change frequently and past performance may not be repeated.