Libro Credit Union launches Loyal 2 Local 2
November 18, 2020

Libro Credit Union is bringing back its Loyal 2 Local Challenge to boost local businesses, and this time it's bigger than before.
The credit union is again giving its 700+ staff money to spend on goods and services across southwestern Ontario. Instead of holding traditional end-of-year Staff Appreciation Day, Libro has distributed $140 to each staff member, with a total investment of around $100,000.
"We're doing it again," CEO Steve Bolton announced to staff last Wednesday during Prosperity Day, the annual event that brings them together to learn, network and be inspired. This year, Prosperity Day was held online, due to COVID-19.
Back in May, as the pandemic's effects on small and medium-sized business in southwestern Ontario became clear, Libro gave every staff member $25 to spend locally. Just as importantly, everyone was asked to share the story of their choice on social media, tagging @LibroCU and including the hashtag #Loyal2LocalChallenge. Colleagues showed their passions for everything from golf to restaurants to socks – and made sure to send a message of strength to the business people behind them.
Steve told colleagues: "If it wasn't for COVID, we'd be getting together to celebrate before the end of the year. But, of course, getting together isn't safe this year, so we were faced with the question: how do we, as a company, show our appreciation to you?
"A lot of work has gone into this, and some radical thinking. We had a budget already set, and we had this great idea in Loyal 2 Local, so we're going to use that money for Loyal 2 Local 2.
"We know the coming winter will be difficult for so many people. Many local businesses are already struggling, and local businesses are the lifeblood of our communities. It's important for us to show our gratitude to people who, like us, are working to keep communities strong, even as we celebrate hard-working Libro staff."
Last time, Loyal 2 Local inspired people across Canada to join in, with 55 credit unions, four affiliated organizations and many other organizations and individuals running a version of the program. Again, Libro is encouraging more people to get involved. It's easy: support a local business and shout it out with #Loyal2LocalChallenge. And colleagues at Libro are already sharing their Loyal 2 Local stories online, so look out for them.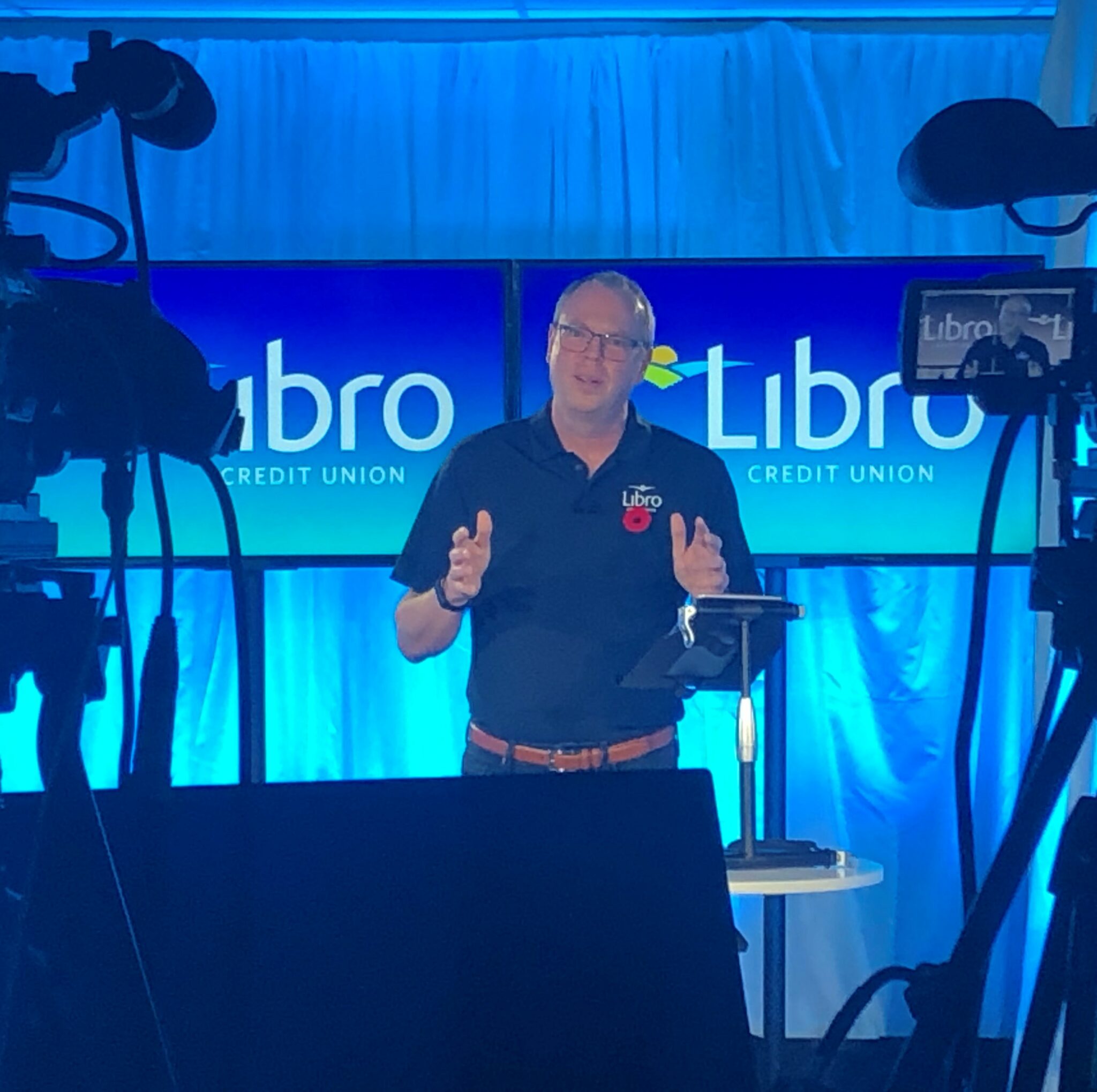 # # #
Media contact: Mike Donachie, Communications Manager, Libro Credit Union
C: 226-926-4068, mike.donachie@libro.ca
Visit our Media Centre.
Libro Credit Union is a full-service financial institution serving more than 106,000 member-Owners through a network of digital service and 36 physical locations. As a certified B Corporation®, Libro invests 100 per cent of profits into the people, businesses and communities across southwestern Ontario.  As a certified B Corporation®, Libro invests 100 per cent of profits into the people, businesses and communities across southwestern Ontario. To learn about becoming an Owner and what it means to bank with purpose, visit libro.ca.