Congratulations, you're engaged! Welcome to one of the most exciting times of your life. Exciting and expensive. But… does it have to be?
Diving into wedding planning is usually met with a reality check of what you can and can't afford, which can lead to disappointment. Not exactly how you want to start off your engagement. However, with a little bargain hunting and saving tips, it doesn't have to put you into a massive amount of debt or jeopardize having your dream wedding.
I planned the absolute wedding of my dreams and it didn't break the bank. And now, I want to share my best tips for planning a practical wedding on a budget with you:
Make a priority list
What is worth spending the money on to each of you and what isn't?
For me, there were two things that I was willing to spend the money on: my makeup and our food. Everything else I was ready to bargain, DIY, or give a little. Once you have your non-negotiables you can plan the rest of your wedding budget around these expenses.
On the opposite end of this – for whatever is not as high-priority for you, find ways to get it done for cheap. For example, my husband and I did not care very much about the floral arrangements. We priced out real floral arrangements vs. pre-made artificial arrangements vs. DIYartificial arrangements and decided on the latter. With a mix of dollar store flowers and a few nicer ones from a craft store, I created every centrepiece, aisle arrangement, and all bouquets for less than $100. That was a huge saving, especially considering many couples spend $700–2,500 or more on their floral arrangements
Do it yourself — but only when it makes sense
Most brides-to-be can attest to becoming Pinterest fanatics from the minute the ring hits your finger — or even before. Pinterest was amazing for all the DIY projects I completed for my wedding. However, sometimes when looking at all the supplies I would need, plus the time, it didn't always make sense.
You can also make DIY and wedding preparation into a fun wedding party day and have everyone over for appetizers and crafting. Bonus tip: most people will do whatever you want for you if there is food involved!
Gently used wedding items
Buy and sell groups, Facebook Marketplace, garage sales — these are all your friends! I literally cannot say this one enough. It goes pretty much hand in hand with a lot of the DIY you might be doing and is one of the keys to creating the perfect low-budget wedding
Consider getting married "off-season"
We got married in the fall which was our preference to begin with, but by not having our wedding during the summer, we saved a few thousand dollars on our venue! If we had decided to get married during the winter months our reception venue would have been free!
We also had our ceremony on the beach in our town, which was also free and available due to the time of year. Not paying for a ceremony venue helped us save a lot of money.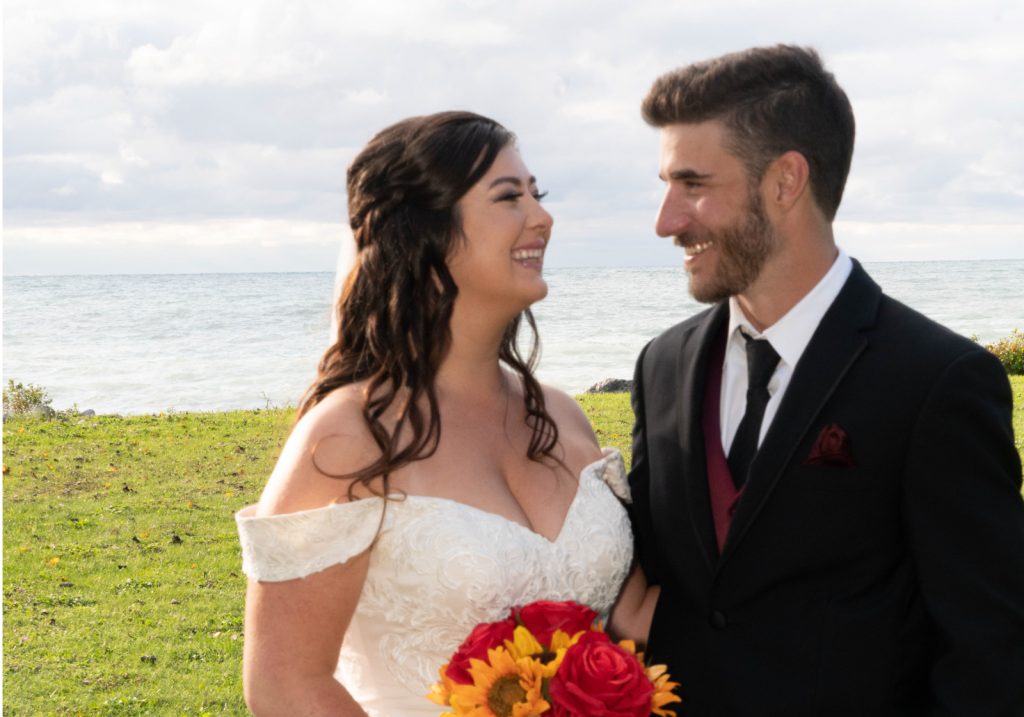 Use your connections
If there is ever a time to call in favours or have your family and friends call in favours, it's for your wedding. My father's social game has never come in handy more than during our engagement — thanks Dad! We got free printing for stationery, a discounted photographer fee, and a free upgrade on our buffet package just from my dear, old Dad's connections.
Save, save, SAVE!
Before you even start planning, you need to save up for the big day and here are some tips and tricks I can offer.
Set up a designated wedding savings account and start automatic, regular transfers to it.
Inquire with your credit union or bank about a "Round-Up" feature on your chequing account. This feature rounds up your debit card purchases and deposits and can deposit that extra change into your wedding account. An easy way to save!
Lastly, you don't need to be engaged to start saving for your wedding – it may seem premature to some but trust me, your partner will love that you've been pre-emptively saving for your big day when it comes time to cough up the dough.
Wedding shows
Not sure where to begin with your wedding? No problem! Your local wedding show is a great place to start. They are super fun and usually offer lots of deals and coupons to the attendees to help you save on your wedding.
Wedding Planners
Do you really need a wedding planner or coordinator? For some, the answer may be yes, but if you think you can do it on your own, that can save you thousands of dollars. Designate willing friends and family to oversee different aspects of your day or to coordinate with vendors so that if something does go wrong – and something will, trust me! – then it isn't yourself or your partner that is dealing with it. Your friends and family will be happy to help.
Additional ways to save for a budget wedding
We always thought we would have an open bar at our wedding, but after looking into it, we decided we'd never be able to recover from that expense so opted for table wine and a cash bar.
When we shopped for our wedding bands, we went to several jewelry stores and found very similar rings and prices. We also visited a wholesale jewelry store and found the same style bands at a quarter of the price.
We also decided to be strict with our guest list and open the reception up rather than have every single person there for dinner. This wound up making the day even more intimate and special —- a bonus win on top of the money saved!
Planning a wedding on a budget is completely doable, it just takes some extra planning and considerations. What better wedding gift to give each other than a beautiful start to your new life that you don't need to spend the next 10 years recovering from?
At the end of the day, all that matters are that two people who love each other are starting an exciting new journey. Happy planning!