For immediate use
Monday, February 13, 2023
Libro Credit Union's Board of Directors has announced the appointment of Shawn Good as President, Chief Executive Officer and Head Coach, effective May 1, 2023.
"I am excited to welcome Shawn Good to Libro – and back to his roots in southwestern Ontario," said Jacquie Davison, Chair of Libro's Board. "Shawn was an outstanding candidate in an impressive field and comes to Libro with more than 25 years of experience in financial services.
"He is an inspirational leader, having previously served as the President & CEO of Prospera Credit Union in B.C. and, most recently, SaskCentral in Saskatchewan, and has a strong understanding of the needs of credit unions competing in a digital world.
"As a courageous and respected figure in the credit union system, Shawn is the ideal person to lead Libro forward through times of accelerated change."
Shawn, who lives in Waterloo Region with his wife Jen and family, enjoys hockey, fishing, and time at their cottage in northern Ontario. He grew up on a farm in rural Ontario and began his career with Mennonite Savings and Credit Union (now Kindred Credit Union). In his varied career he has held Executive and Board roles at organizations across Canada within the credit union sector. He brings a track record of leadership that is rooted in values, purpose, and strategic clarity, as a means to make a difference for all stakeholders.
Shawn Good said: "I'm both grateful and honored to partner with Libro to advance their purpose, vision, and impressive legacy serving owners and communities across southwestern Ontario. I'm excited for the opportunity to leverage my values, experience, and passion for serving Owners, as head coach at Libro."
Libro's new President & CEO is expected to take up his role on May 1. Libro's current CEO, Steve Bolton, remains in his post until March 8. From March 9 to April 30, Carol Normandeau, Libro's Executive Vice President, Advice & Service, will be CEO on an interim basis.
We welcome approaches from media. Please know Shawn Good has limited availability for interviews until he takes up his role in May.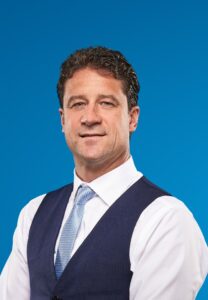 Media contact: Mike Donachie, Communications Manager, Libro Credit Union
P: 519-672-0130 ext. 4344, C: 226-926-4068, mike.donachie@libro.ca
Visit libro.ca/media.
Shawn Good: backgrounder
Past roles:
Executive Vice President, Governance and Strategy, at Conexus Credit Union
President and CEO of Prospera Credit Union in B.C.
CEO of Credit Union Central of Saskatchewan (SaskCentral) in Saskatchewan
Active involvement in the credit union system:
Board member at Everlink Payment Services Inc., digital technology provider Celero Solutions Inc., and chair of national payments organization CUCC
Past board member of Concentra Bank
Entrepreneurship
Founding partner of a real estate development group in South America
Former consultant providing strategic planning facilitation and leadership development
Education
Executive MBA, Queen's School of Business
ICD.D, Institute of Corporate Directors, Rotman School of Business
Strategic Leadership program, Banff Leadership Centre
National Awards
2001 National Innovation Award
2007 World Council of Credit Unions Young Credit Union Professionals Scholarship
2009 National Young Leader Award