For immediate release
March 4, 2019
Libro Credit Union Announces New Chief Financial Officer
March 4, 2019 – Stephen Bolton, Libro Credit Union President and Chief Executive Officer, announced the appointment of Kathleen Grogan as Chief Financial Officer and Executive Vice President, Finance.
"I am pleased to announce the appointment of Kathleen Grogan to this key executive role at Libro," said Bolton. "She will bring her dedication, leadership skills, strong technical experience, and curiosity to her new role as she plays an even bigger part in helping our Libro team achieve our purpose to grow prosperity in southwestern Ontario. The financial services industry is seeing unprecedented rates of change, and with that comes incredible opportunity for our credit union to grow prosperity for more people, families, businesses and farms in southwestern Ontario."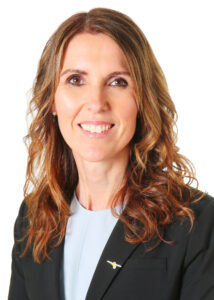 Kathleen has been a member of the Libro team since 2008, working as a Financial Analyst and Enterprise Risk Manager, before her appointment in 2014 to her current role of Vice President Finance. As a member of Libro's Leadership team, she brings experience developing and executing strategic business plans. She contributed to a successful investment share offering in 2015, and developed Libro's inaugural internal capital adequacy assessment process (ICAAP), along with leading her team to ensure Libro meets all evolving financial regulatory requirements.
She is a Chartered Professional Accountant (CPA, CGA), and has a Master of Business Administration from the Rotman School of Management. She has completed the Canadian Securities Course along with a number of executive strategy programs at the University of Toronto and Queen's University.
In the community, Kathleen is president of the southwestern Ontario chapter of Financial Executives International (FEI) Canada, member of a business program advisory committee with Fanshawe College, and volunteers with the CPA Ontario Chapter.
In her new role, Kathleen will join Libro's Executive Leadership Team, contributing to long-term strategic success and achievement of the credit union's purpose. She will provide leadership to the Finance and Credit teams, including all accounting, tax, budget, treasury, investment, and capital functions, credit underwriting and administration.
Kathleen will assume her new role July 1, 2019, when Rick Hoevenaars retires after a 46-year career with Libro.
In addition to his contribution as Executive Vice President of Finance and CFO at Libro, a role he held for over 30 years, Rick has served on Central 1 Credit Union's Board of Directors since 2012, as Chair, Vice Chair and a member of various board committees. He joined the Co-operators Group Board of Directors in December 2017. Rick is looking forward to his next chapter, which includes continued board service, increasing his time with family and decreasing his golf handicap.
# # #
Kathleen Grogan is available for interview today, and leaders at Libro are always happy to be interviewed by the media.
For further information, please contact:
Mike Donachie, Communications Manager, Libro Credit Union
P: 519-672-0130 ext. 4344, C: 226-926-4068, mike.donachie@libro.ca
For more information, visit libro.ca/media.