Have you been to Downtown Kitchener (DTK) lately? In recent years Waterloo region has become the next emerging tech and art hub of Canada. DTK is a mosaic of the regions historic roots and blossoming small business sector.
But what should you do, where should you go? We created a guide of how to spend a day in DTK, with our recommendations of some of the best businesses to visit and activities to do!
Stop 1: But first, coffee.
Matter of Taste – take a seat on the covered patio or check out the stylish interior as you sip your way into your DTK day. The owner Phong recommended we try the Nitro Cold Brew (for bold coffee lovers) and Caramel Cappuccino, both exquisite in taste and won't disappoint!  
Stop 2: Dial into your day, by clipping into your bike.
Cyclone Spin Studio – experience their electric atmosphere, which makes for an excellent place to get a good morning sweat in. Depending on your experience level and music tastes, they have an energetic spin class for every rider.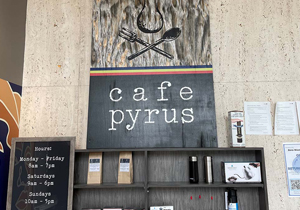 Stop 3: Did someone say food?
Café Pyrus – now that you've worked up an appetite, it's breakfast time. Check out the new patio at Café Pyrus positioned in central DTK, making it the perfect spot to grab a bite to fuel your day. Their fresh, local, and organic food is worth the stop. We recommend you try the Angry Vegan with kaleslaw, and the black bean burrito.
Stop 4: Treat yourself, you deserve it!
The Ten Spot – their mission is to make everyone feel like a ten. They offer a variety of services including nails, waxing, laser, brow tints, and threading. Located right beside Libro's DTK branch, owner Ainsley Short and her team are dedicated to making everyone feel welcome and their best.
Stop 5: The legend is true.
The Yeti – one of KW's best kept local secrets, and home of the famous Terry Pender, Pregnant Cowgirl, and Sasquatch sandwiches! It is perfectly located right across the street from the Kitchener Market. We're already drooling just thinking about it.
Stop 6: Take a stroll, admire the art.
Art Walk – Walking is the perfect way to see the city, and whether you're new to DTK or a seasoned local there is always something new to discover. The art walk features installations from numerous Kitchener artists nestled all around the city. The best way to start the art walk is the Field Guide to DTK's art walk book, which you can pick up for free at our Libro's DTK branch (located conveniently at 165 King Street)!
Stop 7: End your day with play!

AOK Craft Beer & Arcade bar – a great way to wind down from your day is with drinks, food and games! AOK has a huge selection of game-themed beers and cocktails, as well as some retro arcade favorites such as NBA Jam and Pinball! We hope you've enjoyed your day exploring DTK. Whether you're from the area or visiting for a day trip, our local businesses appreciate your support. Let's keep spreading that local love!
Blog Contributor:
Sierra Van Tent
Sierra is Student Representative for Libro's Downtown Kitchener and Beechwood branches. When she is not helping owners, Sierra attends the University of Waterloo where she studies Law and Political Science.